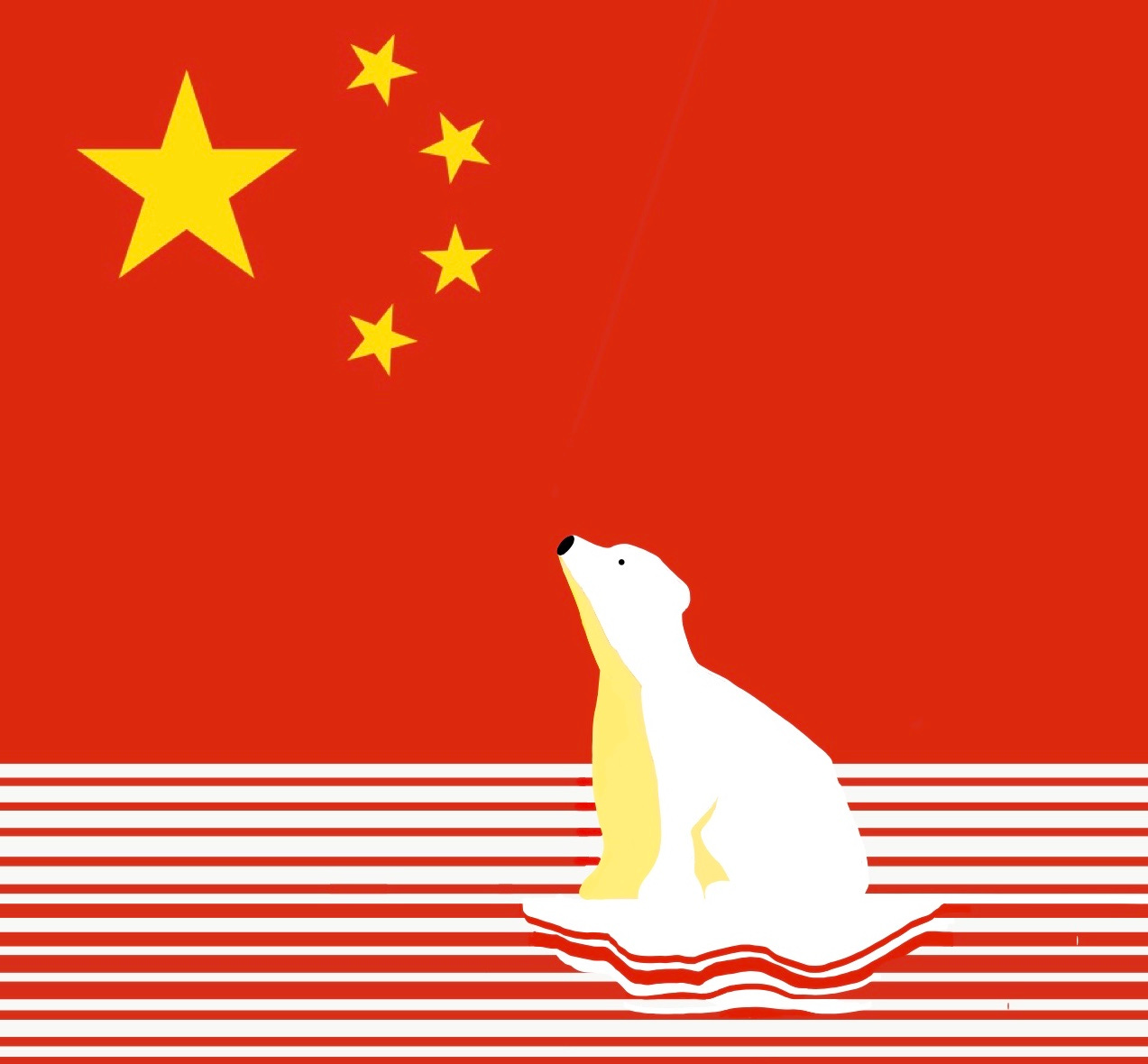 china's economic growth and its consequences
For 4,000 years, China had been a nation of farmers. My great-grandfather on my father's side died of famine on the streets. My mom grew up during the Cultural Revolution in a small rural town. Back then, food was in short supply and almost everything was rationed: rice, flour, eggs, meat, oil, sugar, salt. She shared a small amount of pork among her family of eight. In the past 40 years, they've witnessed China transform from a vastly impoverished, agrarian society into the second-largest economy in the world. My family went from being peasants to middle-class urbanites in less than a generation. Hundreds of millions of people were lifted out of poverty — a remarkable amount of change to occur in half of a lifetime. Today, my relatives work in the city, wake up to buses and taxis honking, eat meat to their heart's content, and call their mid-rise apartments home. The only plot of soil anybody has left is a small garden beside where my aunt parks her motorcycle.
China's industrialization has been staggering, but it has also confirmed the same dilemma that Rachel Carson elucidated in Silent Spring (1962) — maximizing commercial yields and profit simultaneously damages the environment and public health. China burns more coal than the rest of the world combined. Due to smog from coal-fired power plants, folks in northern China have lifespans 5.5 years shorter than those in southern China. Every year, air pollution in China causes 1.6 million premature deaths. However, the impacts of Chinese environmental issues reach far beyond domestic concern. They affect all of us. They're a climate change problem: as the world's largest greenhouse gas (GHG) emitter, China accounts for 27% of global GHG emissions. As well as a global pandemic problem: 4 out of 10 cities most at risk of initiating a global pandemic are located in China. In this case, unfortunately, one man's trash is everybody's trash fire.
climate change is already happening
Our world today is 1.1 degrees Celsius (or 1.98 Fahrenheit) degrees warmer than it was 100 years ago. Sea levels have risen 21-24 cm (or 8-9 inches), causing high-tide flooding to be 300-900% more frequent in the past 50 years in the US.
In June 2020, China experienced its worst floods in living memory. These floods have affected over 14 million people, displaced 4 million, and destroyed more than 40,000 homes. In 2020 alone, flooding has collectively killed thousands of people, displaced millions, and destroyed hundreds of thousands of homes in Bangladesh, Sudan, Japan, Yemen, India, Tanzania, Papua New Guinea, Kenya, Indonesia … the list goes on and on. Many of these are flash floods — among the world's deadliest natural disasters with more than 5,000 lives lost annually. The Global South is particularly vulnerable to flash floods due to monsoon rains and human settlements on floodplains. Currently, 1/3 of Bangladesh is underwater, but this is no random event. Historical data shows that, since the 1970s, the scale and duration of floods has been intensifying in Bangladesh and Nepal. The increasing rate and prevalence of extreme flash floods is signifying a new normal caused by climate change. This is one symptom of climate change. Our rising temperatures and sea levels are also creating new cataclysmic normals of heat waves, wildfires, hurricanes, droughts … the list goes on.
civic pressure leads climate policymaking
As the world's largest polluters — China, USA and European Union — keep burning fossil fuels, its citizens have been left to shoulder the burden of climate action. Civic pressure from ordinary people is pushing the envelope on climate legislation, forever changing American and European politics on climate change.
Millions of young people around the world have poured into the streets, demanding climate action and a livable future from their governments. In 2018, the Sunrise Movement, a group of youth climate activists, and US Rep. Alexandria Ocasio-Cortez staged a sit-in in Nancy Pelosi's office. They demanded the Green New Deal (GND), a massive package of federal programs to transition the entire country to clean energy sources and provide jobs for all Americans. Within months, the Green New Deal became an official resolution in US Congress and a baseline policy of nearly every major Democratic primary presidential candidate.
Around the same time, Greta Thunberg gave the iconic climate change speech, asking United Nations world leaders "how dare you" choose money and climate inaction over their children's futures. Greta's speech and climate strikes sparked a global youth climate strike movement of millions of students protesting on the streets. The mounting pressure from below stirred a political earthquake. In 2019, millions of voters elected a record number of Green politicians into the European Parliament, enabling the passage of the climate-neutral European Green Deal for 27 EU countries.
If this tells us anything, it's that we can't rely on our governments to lead us to safety. We wouldn't have a Green New Deal or European Green Deal without protestors, climate strikers, and people practicing civil disobedience. This newsletter is founded on that premise. Ordinary citizens are leading governments towards a livable future, not the other way around.
china's critical role in climate action
Home to the world's largest coal consumption and largest clean energy market, China is a land of contradictions; nevertheless, China holds a make-or-break role in the climate crisis. We cannot solve climate change without China.
However, media and news coverage fall short in reflecting the importance of China's role in our climate crisis. A brief search comparison to its American and European counterparts reveals a glaring blindspot in our global awareness of climate news. International coverage skims the surface with reports on China's fossil fuel consumption, latest clean energy investments and global climate governance at overseas conferences (e.g. Paris Agreement). But it's an incomplete picture of China and climate change. Viewing it as complete would be equivalent to seeing Trump's withdrawal from the Paris Agreement as a proper reflection of Americans' views on climate change. Simply put, China's critical 27% contribution towards global emissions demands that we understand Chinese civil society's relationship to climate change.
Albeit, the route to understanding the Chinese populace is not the most convenient. In many ways, Chinese civil society is a world of its own. China's internet surveillance prevents its citizens from accessing the world's most used social media: Facebook, Instagram, Twitter, YouTube, WhatsApp. Instead, they use Chinese platforms such as Weixin, Weibo, Tencent QQ, and Douban. This lack of social media overlap complicates how global social movements reach Chinese citizens. On a larger scale, the rules of social activism and civic responsibility in China are an entirely different ballgame. This newsletter seeks to elucidate those differences.
a brief history of chinese civil resistance
My first real introduction to Chinese environmentalism was Under the Dome (2015) — a documentary investigating China's smog. Encountering a piece of Chinese media that was so honest, so critical of its own government, and brave was astonishing. I couldn't believe that something like Under the Dome could come out from under China's authoritarian regime. Within a few days of its release, it accrued over 200 million plays on Chinese social media, forever changing Chinese public opinion on environmental issues. The documentary impacted stock markets, causing shares in anti-pollution equipment companies to soar and equities in environmental technology companies to transcend their trading limits. This was China's Silent Spring moment.
Under the Dome follows from a history of Chinese civil resistance. In 2007, almost 10,000 people in Xiamen, China protested the construction of paraxylene chemical plant. Bending to public demand, the Chinese government relocated the plant.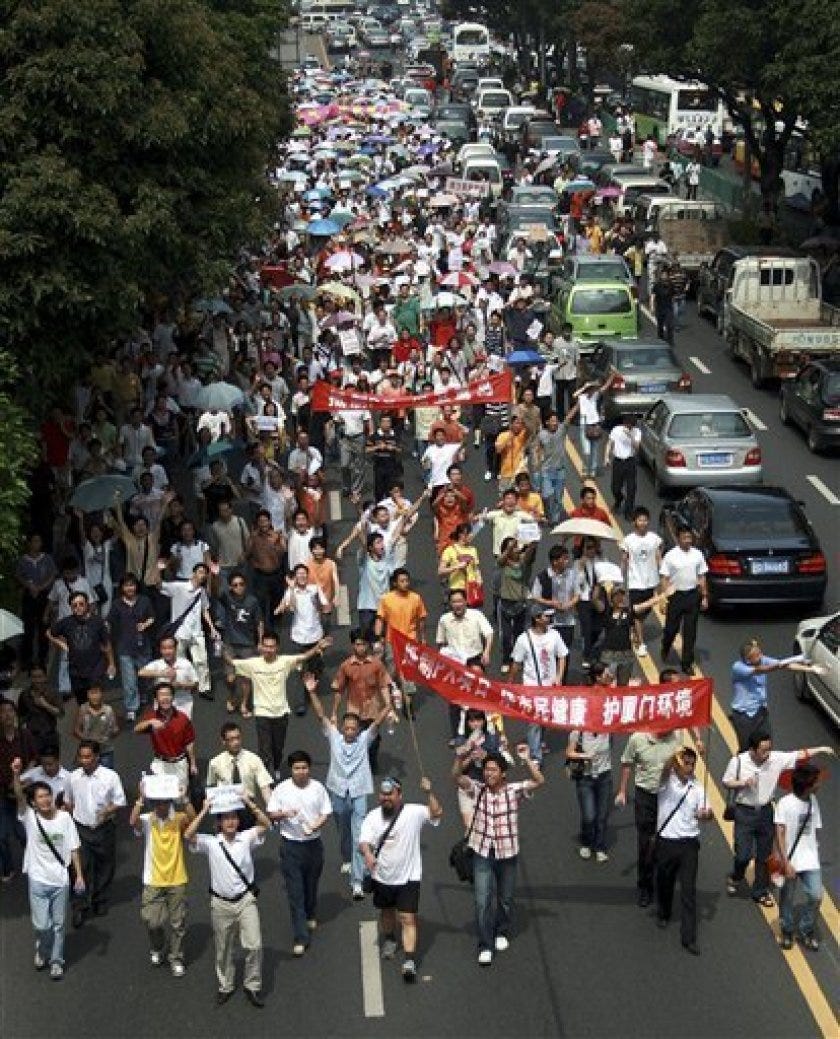 Xiamen, 2007. Paraxylene Chemical Plant Protest.
For some Chinese folks, this protest rekindles the spirits and memories of China's democracy movement in the 1970s and 1980s, which ended in brutal suppression at Tiananmen Square in June 1989.
If an image of protestors in a post-1989 China comes as a surprise, it's because Western media disproportionately reports on the Chinese State rather than the Chinese people. There is a modern China that many of us don't even know exist.
In the 1980s, Chinese citizens organized through passing around leaflets. In 2007, the Xiamen PX plant protest was organized via hundreds of thousands of SMS messages. Today, Chinese organizers are playing a different game with the rise of social media platforms like Weibo. In this newsletter, we'll be start by diving into a uniquely democratic space —Weibo — under China's Great Firewall, the most extensive and sophisticated censorship system in the world. Here is where we'll learn about Chinese public opinion on climate change, the work of environmental non-governmental organizations (ENGOs), and climate activists. We'll be uncovering a history of Chinese environmental protest, community organizing, and political accountability in an otherwise top-down political regime. If we're lucky, we'll get to talk to China's first (and perhaps world's bravest) climate striker. And maybe, just maybe, we'll fill in perhaps our largest blindspot concerning one of the greatest threats facing humanity.
Stay tuned.
---
If you like what you read, join the mailing list and feel free to share it with others.
---
signing off,